As boring as our house is, we still love it. Correction, as boring 'looking' as our house is, we still love it. When we did our first & only walkthrough, before purchasing it in early January 2011 (our little babe was only 4 months old), we were very 'underwhelmed' by the materials, finishes & detailing that this house has. It lacks any kind of character at all.
At.
All.
The furniture was terribly out-dated (not that it was staying, but furniture makes a huge impact on how you first perceive a space).There was no architectural detailing of any sort. The doors are blah. The windows are blah. The hardware is all shiny polished 80's brass (not the good, patina'd, matte or brushed brass I'm in love with). I can go on & on in the same manner about the plumbing fixtures, light fixtures, flooring, etc.....I'm sure you get what I'm saying. It's just so underwhelming. Anyways, the very thing that we hated about the house was what I LOVED about it! No one had come into this home since it was first built 17 years earlier and did any reno's or changes. That meant that we weren't going to be paying more for a shitty renovation that (chances would be at about 99.9%) I would absolutely HATE! And because we would have paid more for someone else's shitty renovation, we would have to live with it longer since it would take us longer to save money for the renovation/changes we want. Basically the ugly materials, out-dated finishes & lack of character are what sold me on this house. It's a clean slate for me to start with.
The size of the house also works for us. It's about 2500 square feet. Each floor is roughly 1250 sq ft. We were at that time living in a 900 sq ft condo w/2 bedrooms & 2 bathrooms. To go from that to a 5 bedroom, 4 bathroom house was crazy huge to us. The rooms are a small scale & the house size isn't McMansion big which is exactly what I wanted. First of all,  I do not want to clean a huge house and secondly, buy furniture that we wouldn't really use just because we needed to fill empty space. Not really our lifestyle or my personal design philosophy. So the size & scale of this house is good for us.
We also loved that the house has an ocean view. It's not ocean front but its across the street from the ocean. The entry & family room on the lower level and kitchen, living room, dining room on the upper level have amazing views looking out onto the Straight of Georgia at a couple northern Gulf Islands.
Following is the lower level plan: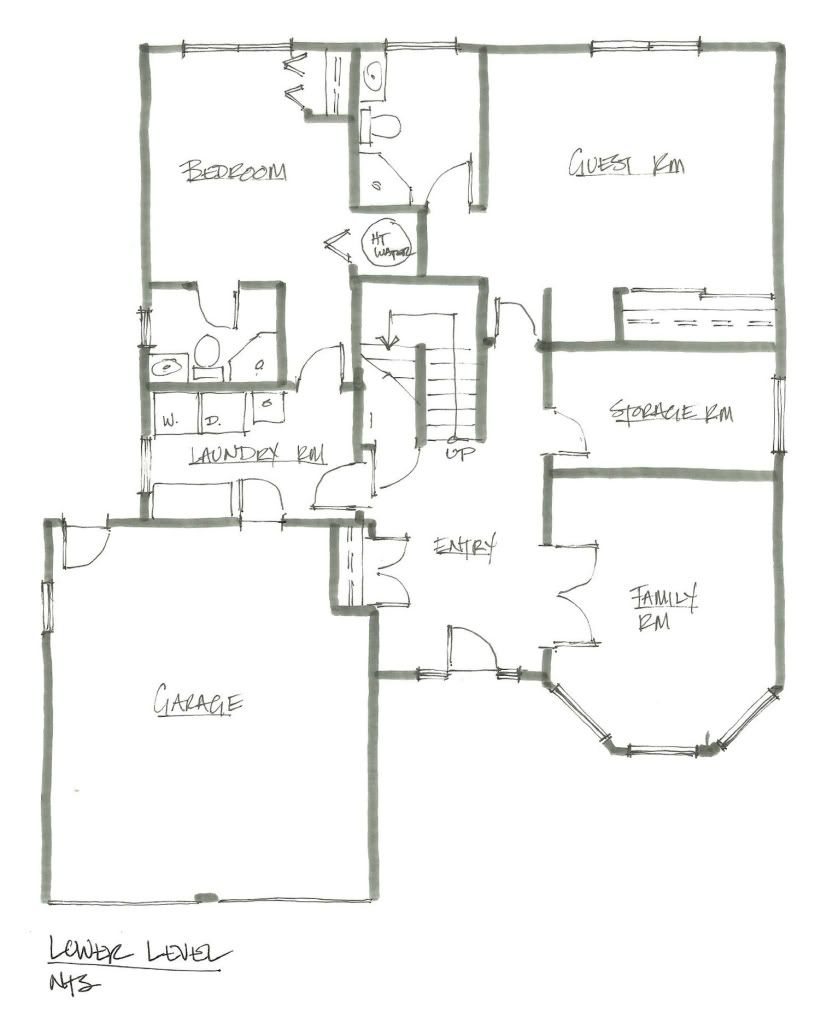 We like the larger entry. Just off of it is a large laundry/mud room which is great. My husband is currently using the family room off the entry as his office. We have a guest room with its own ensuite, a large storage room and another bedroom w/ensuite off the laundry room (that bedroom & the garage are currently being used by my husband for his business). We can do many things with the the lower layout but it all depends on what happens in our future, a long story for another post, but there's basically a Plan A, B or C in the works.
Following is the upper level: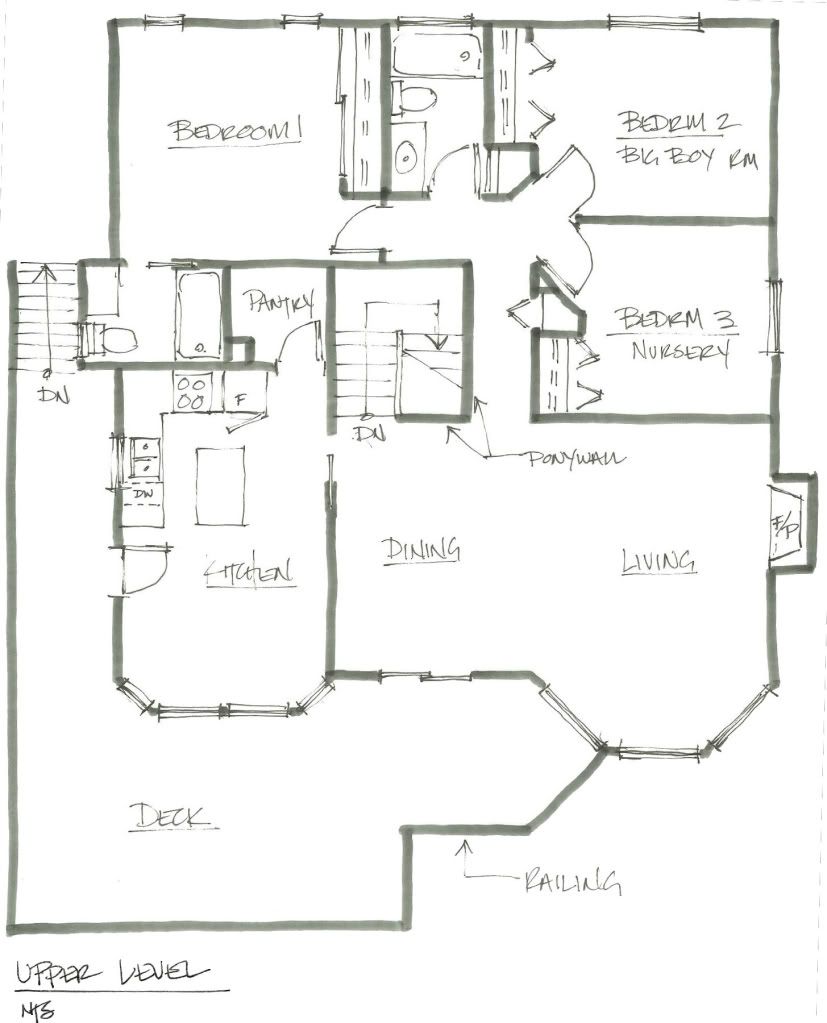 We like that there are three bedrooms and the kitchen, living & dining all on this level. The only major change to this layout is that the wall between the kitchen & living/dining area will come down. We'll expand the kitchen island (whenever that reno happens) to create more storage & counter height seating on the side facing the living space. We use the deck a lot & our neighbors said that the other, original owners never used it. Why you would build a deck facing the ocean & not use is beyond me? We also like that our house is two levels since all the homes to the left & right are single story ranchers and it makes our main living space feel a bit more private.
The only draw-back to my love of the ugly house finishes & lack of detailing is the work involved changing them which is a shitload. Every square inch of this house needs attention. Not one room is okay as it is. Someone who did a lot handy work here didn't know what the hell they were doing & did very weird things with very sloppy craftsmanship. The fun part is designing the house....I love designing it. Did I mention that I had this whole house re-designed two weeks after viewing it? BEFORE the real estate deal was even confirmed. Finishes, detailing, fixtures and all.  But holy shit is there a lot of work ahead of us. Just painting the nursery wiped me out and that was only a short term fix!
Please excuse the rough sketches, it's just to give an idea on the layouts of our home. I'll add proper furniture & finishes plans in the future.