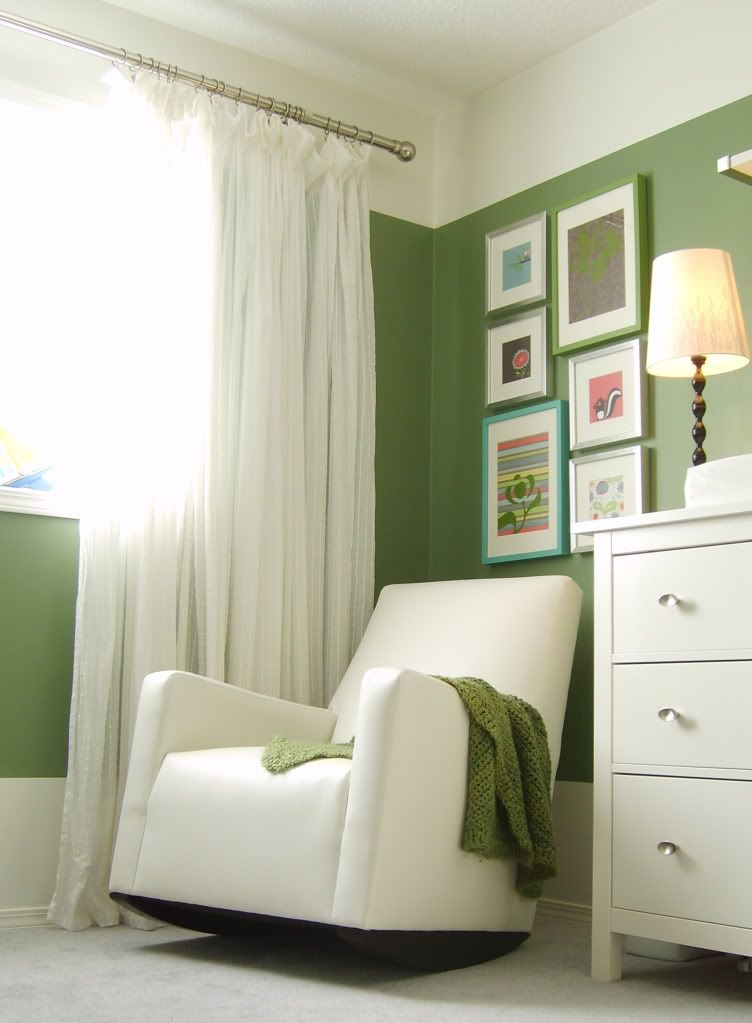 The nursery design, as it is currently,is my short term 'lets do this as inexpensively as possible' fix. Besides the paint on the walls, I didn't address any of the existing finishes in the space. At some point we will replace the grey broadloom with hardwood flooring. I've thought about many different species of wood floors to install but have decided that we'll put a black walnut plank flooring with a clear finish throughout the house, including all bedrooms & the nursery. I like black walnut because it's a timeless hardwood. It has a balanced variation of warm & cool tones throughout the wood grain.
A wool or cotton area rug will be needed so that little feet and little bums have something soft & cushiony to plop down on. The area rug should be graphic/patterned, colorful and gender neutral...something along the lines of the following samples (although I know my husband would object to the pink in some of them):
I 'love' this Dash & Albert rug but sadly it's out of our price range for the nursery & the husband might find this too feminine.
This is a gorgeous limited edition rug by Malene B. Again out of our price range & maybe a tad too much pink but I love the strong colours & geometry.
This is definitely more 'boyish' & affordable. I like how the linear stripes take on a free form line at one end. It reminds of melting crayons for some reason.
This Ikea rug is definitely in our price range. I like the variation of colours and the square shape is more suitable to the space. I'm not crazy about the binding edge but it's colourful, wool fibre & affordable.
Another finishing detail to be addressed is the door, window & floor trim. We currently have the same basic 2" builder trim on all the door frames, window casings and baseboards. It is plain, uninteresting, and boring. Changing the trim details will make a huge impact in the space. Right now I'm thinking that I'd like to add trim detailing that is something similar to this:
I'm using the above photo to reference only the door trim & height of the baseboard, ignore the chair rail & wainscot.
The above photo is only in reference to the window casings.
We also want to eventually replace all the doors in our home. There's no disguising the faux recessed paneled doors. They scream basic builder grade. I'm still undecided on 'the' door style but am leaning more towards a single recessed panel/shaker style door in a white paint finish. No faux wood grain in pressboard, just a solid wood door with a properly constructed recessed panel. And no ogee edges or trim detail around the recess! Just simple clean lines.
The ceilings throughout our upper level of the house are a huge peeve of mine. They're all a spray texture finish, not as heavy as a popcorn ceiling but not flattened out or a fine texture either. They're somewhere in between and awful! Of course the nursery is one of the lucky rooms to have this ceiling finish. My resolution for all these ceilings is not to scrape the textured finish off (too messy & I don't want to live through that) but install +/ 3" wood planks with a white paint finish over them. It will add a subtle texture throughout the house and allow me to change current lighting locations without having to do any drywall patching. The wood plank ceilings will be painted white & not white washed, stained or left natural (there will be enough wood grain pattern from the black walnut floors so the ceilings do not need to compete with that). The painted wood finish will be similar to the following image but on a flat ceiling plane.
I've always loved Le Klint light fixtures and I think our nursery is the perfect space for one. 
One reason why I chose to add the green horizontal band on the walls around the nursery (aside from thinking I might run out of paint and would use less that way) was so that we could add the wood ceiling, hardwood floors & trim/baseboards without disturbing the walls too much. I have plenty of off-white paint (used on the doors & trim) leftover to use for these future changes. Of course touch ups would be required but we can replace the new floor & ceiling finishes with minimal disturbance to the main wall colour.
So we've got new floor & ceiling finishes, trim details, area rug options and lighting to still install in the nursery to complete it. What will these new materials look like with the existing white furniture in the finished space?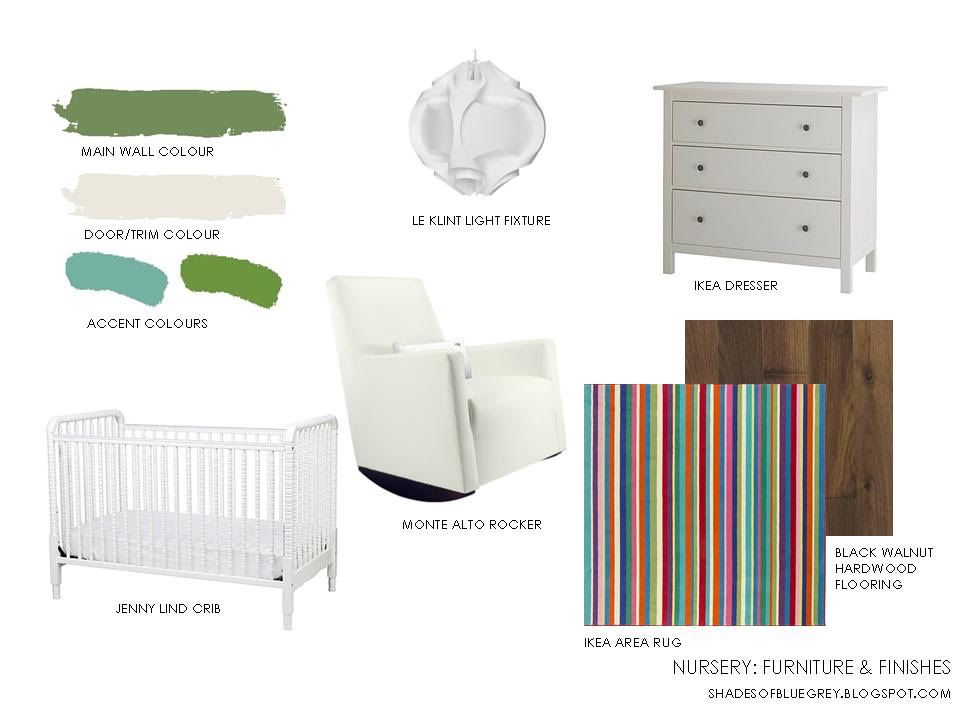 The hardwood flooring will ground the space & provide contrast to the light ceiling & white furniture. The area rug breaks up the mass of the walnut floor and provides a stronger mix of colour & pattern in the room. It also provide a cushiness that a nursery should have underfoot. 
Currently we only have one baby but we do plan on expanding our little family with one more. Our son, who is about 18 months now, will move to the room next door to make room for baby (whenever that time comes). I  didn't use a 'theme' when designing this space because I didn't want our kid to ever 'grow out' of this room. The space is designed to reflect our child as they grow & their interests change. Artwork can be replaced, accessories can be switched, the green wall colour can easily be painted over (with no cutting in at the ceiling & baseboards), area rugs can be changed, etc....but no major overhaul to the finishes & furniture will really be needed since the space will adapt with our growing child (other than replacing the crib with a twin bed).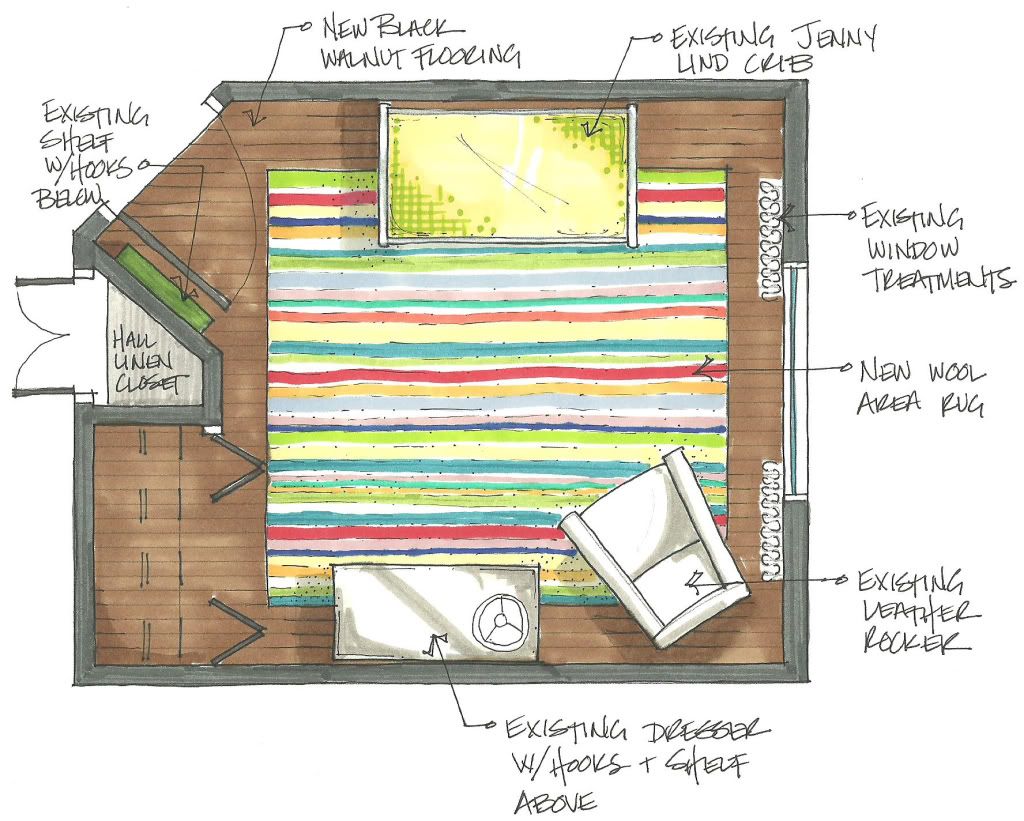 And that, my friends, is the final design plan for our nursery.