This is the first room in our house I wanted to pull together since it would mean interrupting our babe's routine in order to do so. The sooner I could get that disruption over for him the better. Following is an image of the nursery before we moved in.  It's a pretty sad 'before' picture, not only because its a low res image from the realtor, but because it was such a bland, little white box. See those white'ish walls? Yeah, that's not white paint you're looking at but what I highly suspect as primer only. For 17 years, primer only. Same goes for all the doors in this room. Primer only and it was yellowing. Not a good look especially when paired with a grey & peach window valance, cheapo horizontal slat blinds and primed only walls.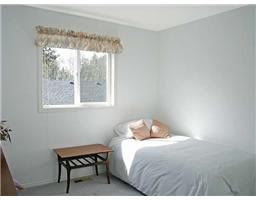 Here's a basic furniture plan of the nursery, as it is now, showing the main pieces of furniture in the space (which are all from our previous nursery).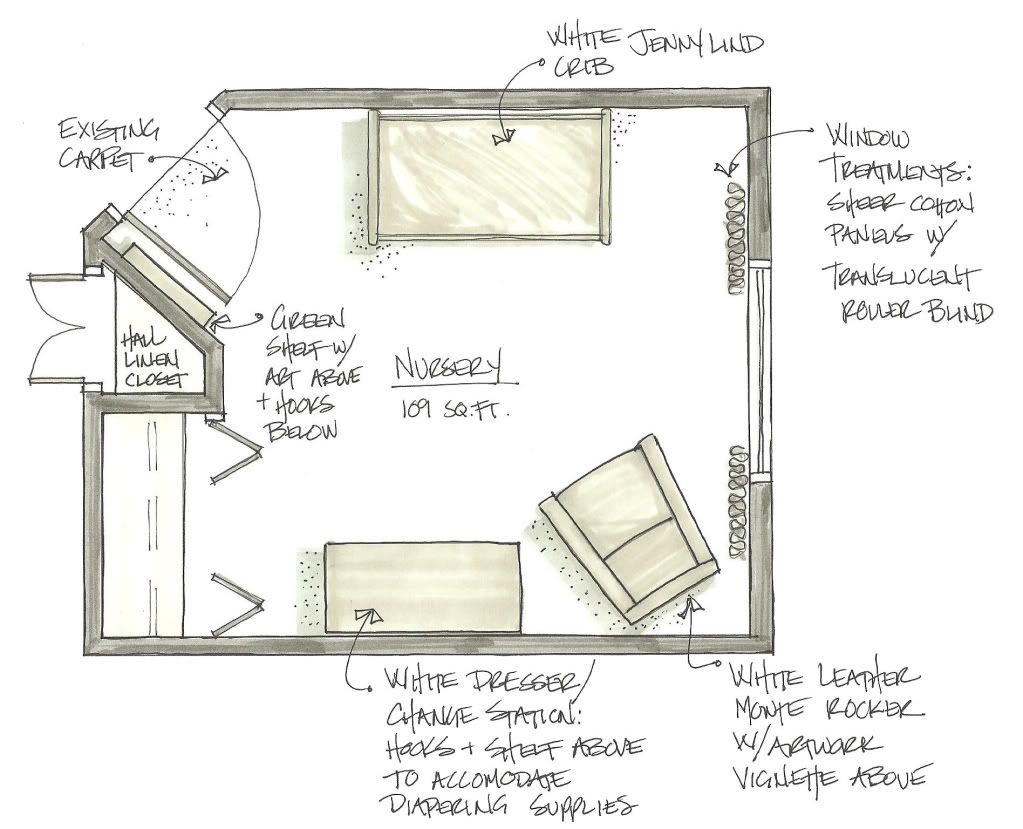 When I was pregnant we didn't find out what we were having, leaving it to be a surprise at the baby's delivery & we plan to do the same with our next little one. So our previous nursery needed to be gender neutral & we chose a green colour for the walls which was the 'only' colour we could both agree upon. The boy will eventually move from this nursery & go next door into his 'big boy' room to make space for a new baby brother or sister. Clarification - I'm not pregnant, just thinking ahead for when we do expand our little family. Anyways, that's my very long, over expanded explanation as to why our nursery has green painted walls.
It's a pretty boring, small room lacking in any details. Since we're trying to make changes as 'economically' (read cheaply) as possible, my only option was to use paint in the space to add some kind of interest. I already had about 3/4 of a can of green paint from our previous nursery, so I only needed to buy some off-white paint for the doors & trim. I also used some turquoise paint & another brighter green paint (that we again had used in the old nursery) in the room as accents. Those are  Martha Stewart test sample pots from Home Depot, Araucana Teal  & Bay Leaf. Each little sample pot has surprisingly gone a long way.
So here is what a little paint did to the room...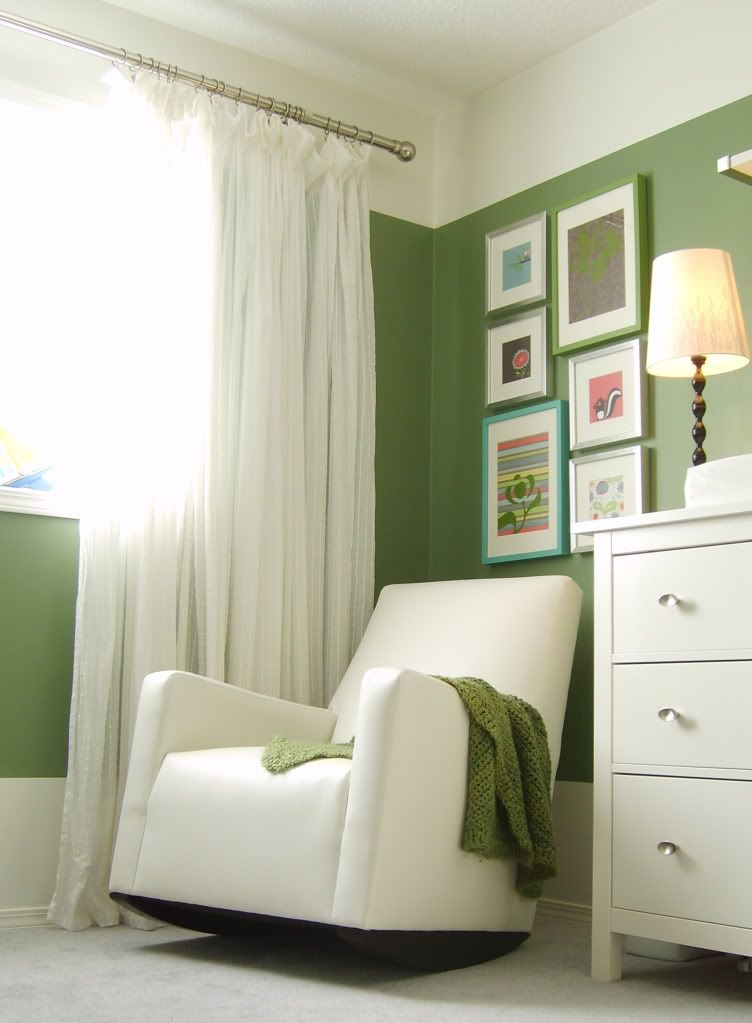 The room was a boring box so I decided to colour block the green paint on the walls. I used the same off-white paint on the doors, trim, baseboards & upper/lower walls. The green colour starts at 14" up from the floor & 14" down from the ceiling. Its painted as a horizontal band around the room breaking at the doors & window. I chose an off-white for the doors & trim, as opposed to a bright white, to soften the contrast with the darker green wall colour. The crib, dresser & rocker are all different shades of whites and I didn't want to make them look dingy by introducing a brighter white into the space.
I also decided to break the green colour at the center of the crib wall to make the Jenny Lind crib & artwork above it stand out as more of a feature in the small space. It also helps balance the room by bringing a block of the off-white to that side of the room, matching the mass of the rocker & dresser. I painted an Ikea picture frame with the MS Bay Leaf and installed it above the crib.
Beside the crib is a basket of quilts & blankets. Some quilts were hand sewn by my husband's grandmother for him as a baby. My mom made some of the other quilts & a felted blanket for our babe. My cousin crocheted the green blanket & the little pouf. I'm lucky that our families have sewing/quilting/crocheting talents. I wish it didn't skip me. Well, I've never actually tried, I'm just really talented in my lack of motivation sometimes.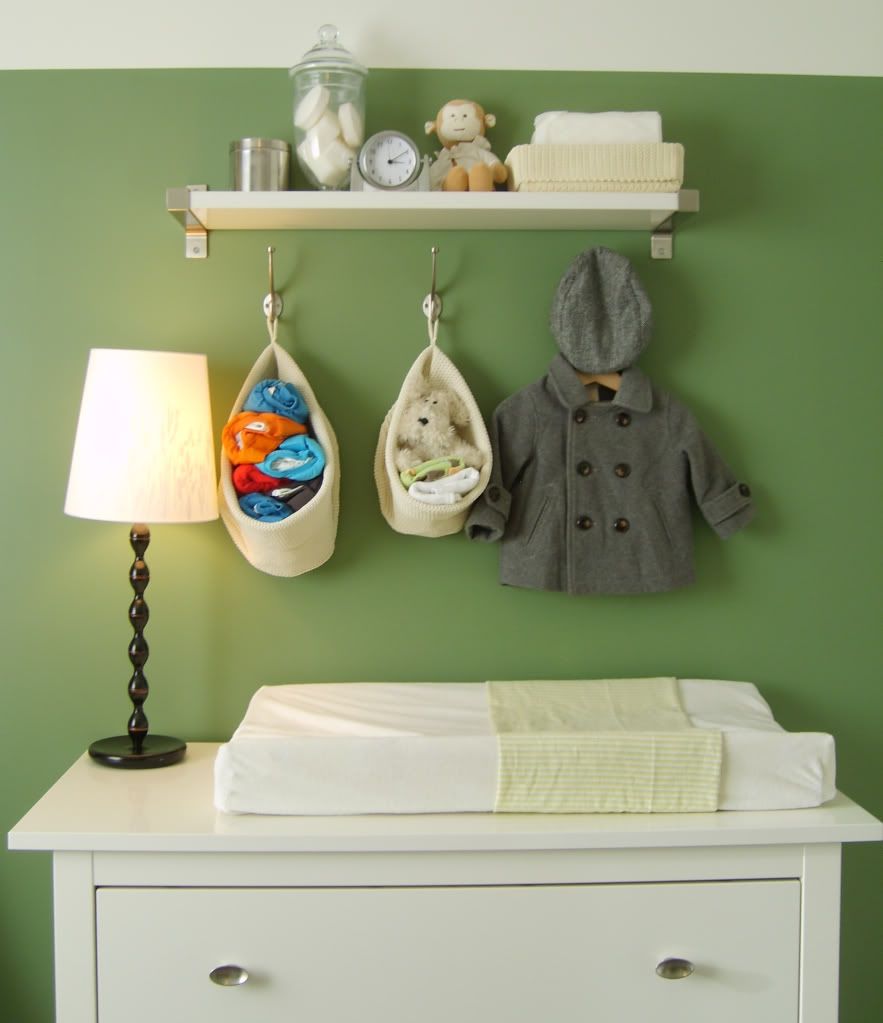 The dresser acts as a change table and the shelf & hooks hold/store all diapering items and some clothing/accessories. I love the Monte rocker with one exception: as all rockers do, it moves around. Sometimes too much but its comfortable. Very comfortable, especially when feeding &/or rocking a baby at 4:30 am. The art vignette above the rocker was made with Ikea frames & decorative paper that we had used in our previous nursery. I painted the two larger frames with the MS sample pots.
Behind the door is a floating shelf that was made for the last nursery, painted MS Bay Leaf. Above it is some art & photos and below are two hooks from Anthropologie. Since the green wall colour was chosen for a different space with different light, it is a LOT darker than I would normally select but budget, or lack of one, was a huge driving force behind design decisions here. We had it, so we used it! To try and brighten things up a bit & break the 'green-dom' of this corner, I painted only the jamb side edge of the door in MS Acuacana Teal (I saw that idea on the Lonny blog a few months ago).
The hardware & sheer cotton drapery panels were, again, reused from the previous nursery but I added a new roller blind. I cut the Enjes blind from Ikea, to suit the window width, following this tutorial. I like how the blind filters in the natural light, as do the cotton drapery panels. Used together they're opaque enough for the little one to sleep, even on bright sunny days. The sheer white drapery panels fill this wall almost entirely when drawn closed which, again, helps to offset the darker wall colour.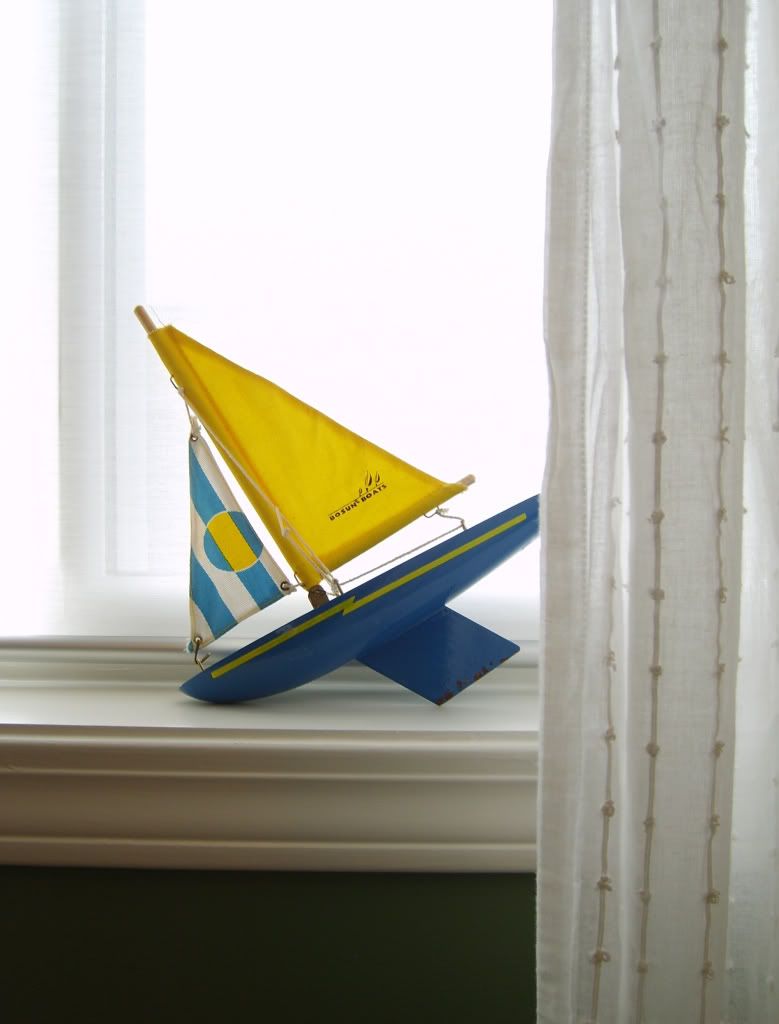 The closet. Oh the damn closet. I found a can of yellow paint in our storage room (we're not sure where it came from). It was a small can & the closet needed painting so there it went. Once it was done I realized that the combination of the green wall colour & buttery yellow was looking flat, boring, & yuck. I added off-white, green & turquoise horizontal stripes to brighten it up so I wont cringe every time I open the closet. The time involved in painting those stripes was insane. Insane! I'm glad it's done but there was some very tedious labour involved in that and I will never paint horizontal stripes inside a closet again.
The closet rod, shelf & hardware were already there and installing nicer rods & hardware in a baby's closet is not very high on my priority list.  I'd like to add a shallower shelf above the existing one at some point, to maximize the vertical storage. I thought of adding another rod below to double the hanging space but there's enough clothing storage between the dresser & existing closet rod. I'd rather keep the bottom half more open as it is since our little guy likes to use the closet as a hiding space (hide-and-go-seek) & building forts.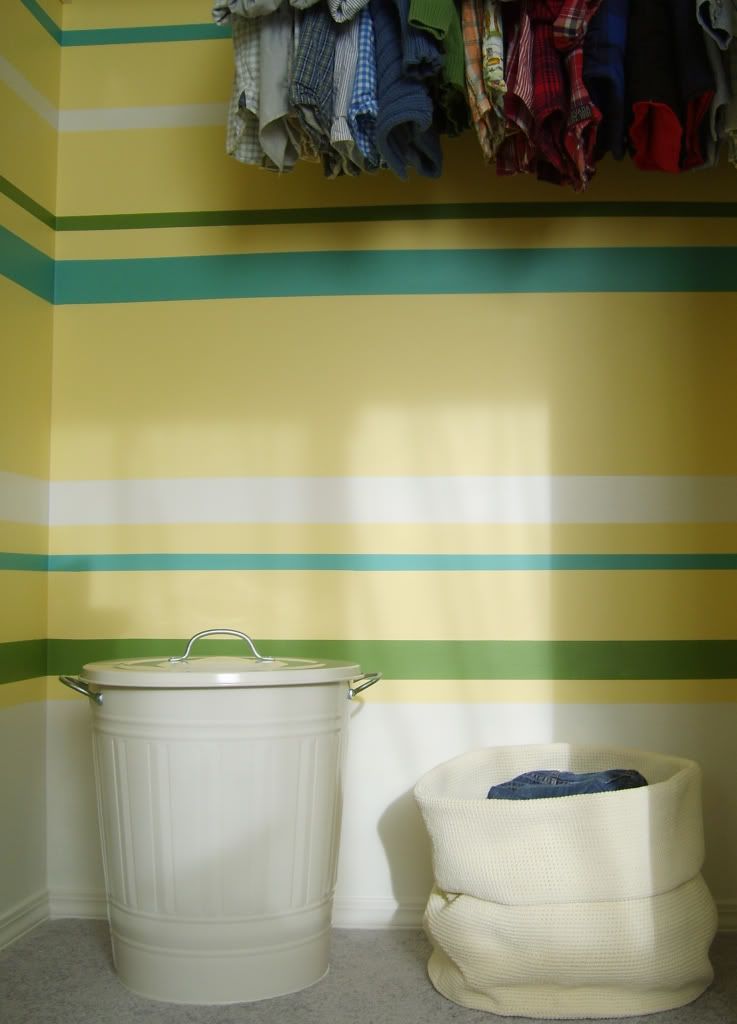 The existing grey carpet is here to stay for a while. My design resolution with it was basically just to ignore it. It's neutral enough that it doesn't clash with anything but I'm still keeping my eye out for a large flat weave area rug to layer over it. I bought a cheap ass light fixture for the ceiling. An Ikea hemma cord (in blue) with the round paper lantern shade. But then the paper shade ripped which is okay since I felt 'meh' about it anyways. I've got an idea to create a new shade and if it turns out to be too 'crafty' or d.i.y. looking, I'll just leave the boring 'builder special' fixture up until I buy a light that i really want.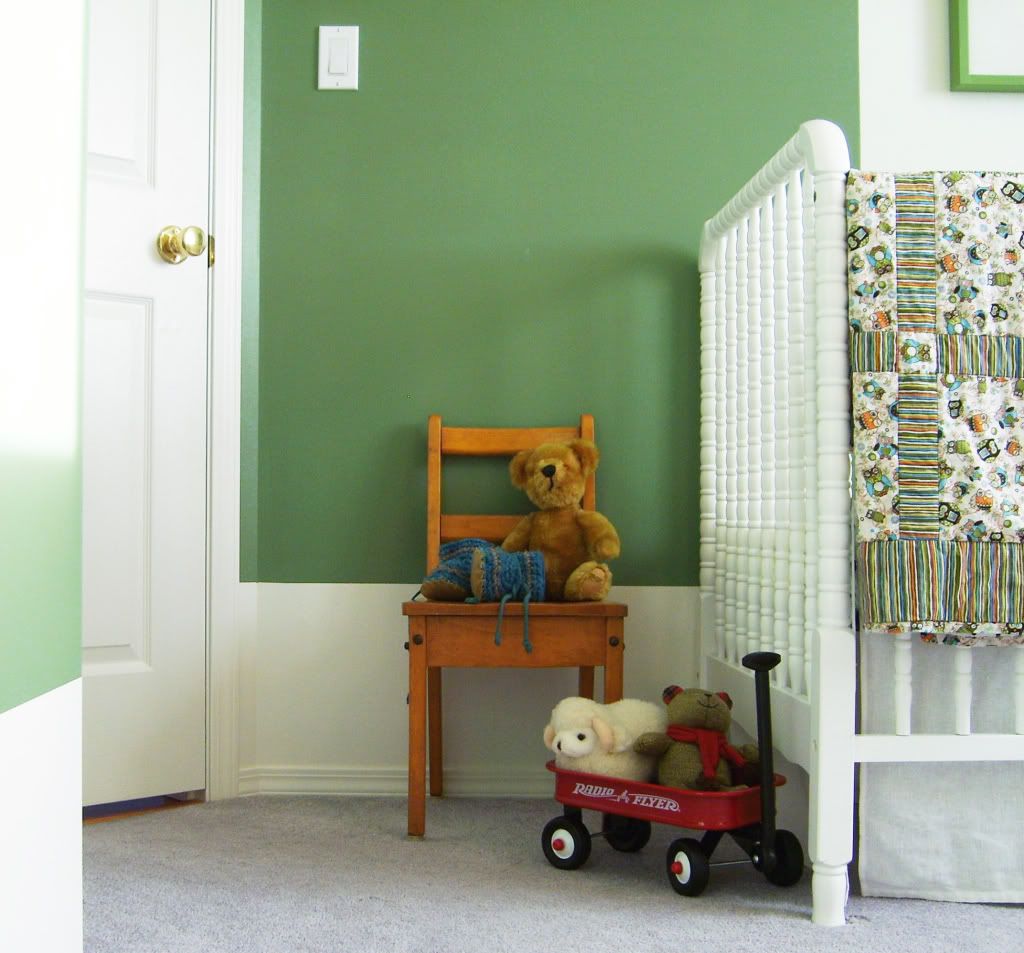 This little wood chair was gifted to us from my mother-in-law. She rescued it from my husband's elementary school years ago as it was being tossed in the trash. It's a great solid little seat.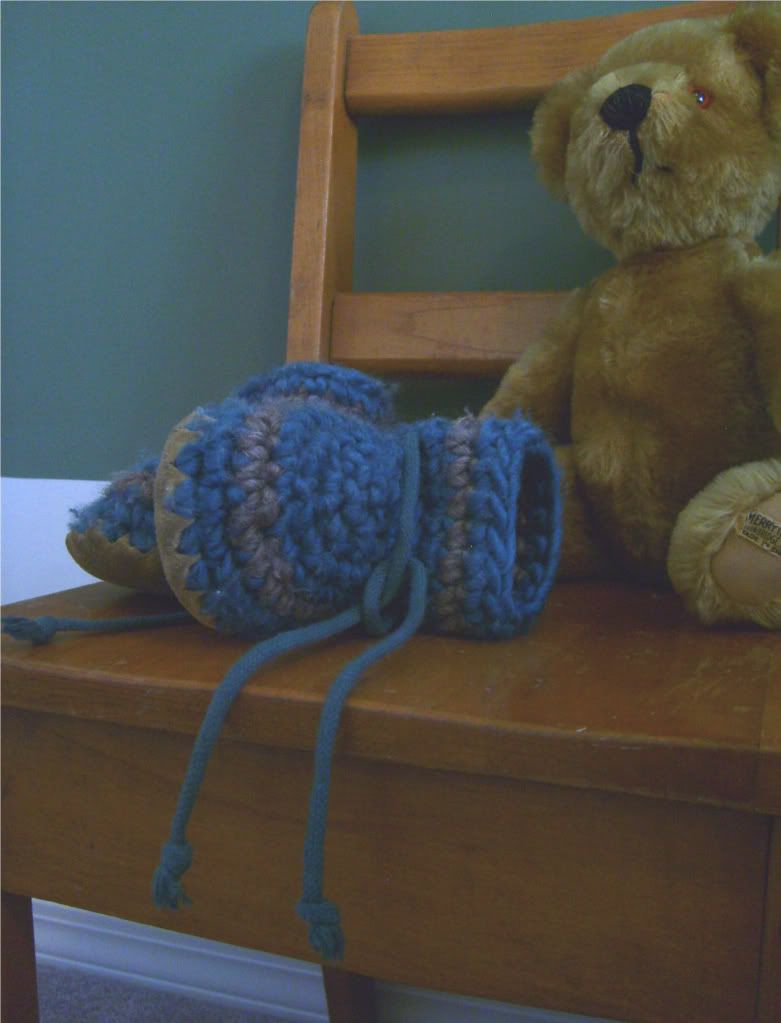 I love, love, love these booties. They're knitted wool with sheepskin soles. Nice, warm & cozy on the inside with a non-slip suede bottom. They are too cute on little feet and I think every baby should have a pair.
So thats our nursery. It only cost us the price for one gallon of off-white paint, a roller blind, two hooks and a hella lot of my time & labour. But our little one loves it so I'm happy with that.
P.S. I'm working with just a little Samsung point & click camera so please excuse the quality of the photos. No fancy camera with a crazy lens here.